CloudCair features in Welsh NHS Life Stories
The remarkable story of the 'birth' of CloudCair has starred in the latest issue of Life Stories published by MediWales. The article, part of a feature that highlights innovation in the Welsh Life Science Industry details the background behind the development of the World's First Smart Pressure Care System. (Click image to enlarge)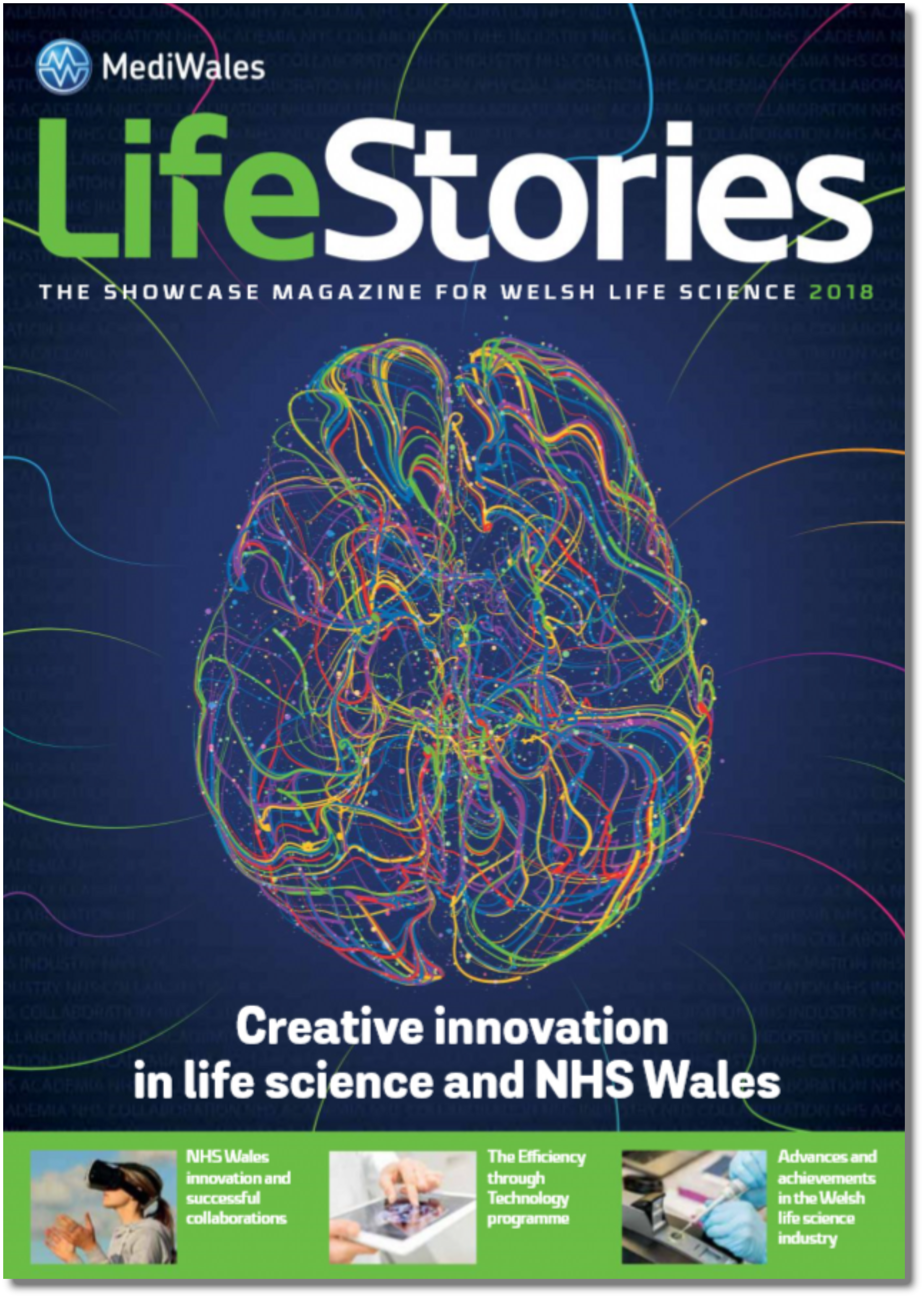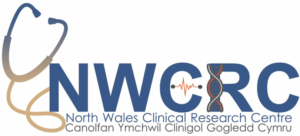 Wrexham based company CloudCair is to present its latest product at the two-day conference to celebrate the opening of the North Wales Clinical Research Centre (NWCRC) which is being held in the Ramada, Wrexham on the 14th of June.
CloudCair which is a joint venture between a local Healthcare company and IT provider has produced the World's first internet connected pressure care mattress. The mattress which has remote monitoring and diagnostics using 'Internet of Things' (IoT) technology will detect and prevent mattress failure which can lead to pressure sores. In susceptible people, a full thickness pressure ulcer can develop in just one hour – a much shorter time than it takes to diagnose and repair an issue with existing equipment.
The presentation by Jeremy Jones, CloudCair's Technical Director will highlight the unique benefits of the patented CloudCair system which will release nursing time from the maintenance of equipment to the care of patients. "The human cost of wounds is measured in pain, distress, embarrassment, anxiety, prolonged hospital stays, chronic morbidity or even death. Much of this suffering is preventable".
Pressure sores in the UK cost the NHS around £5 billion per year equivalent to the money spent on cancer care and despite being largely preventable, Wales recorded 1119 occurrences in both the supervised community care and hospital environments. The cost to treat each ulcer can range anywhere from eight thousand to nearly fifteen thousand pounds and can more than double the length of stay in hospital. It is also trebled the number of readmissions over the last six years.
CloudCair has already shipped units to Australia and has interest from the US, Ireland, Switzerland, Spain and the Middle East. Managing Director, Phil Spiby said "Whilst it is flattering to have interest in our product around the world – it is particularly satisfying to be involved with innovation at our local NHS trust"
The North Wales Clinical Research Centre is a BCUHB Research & Development initiative, working in collaboration with Glyndwr University, Bangor University, Celtic Advanced Life Science Innovation Network (CALIN), and the Life Sciences Hub Wales.

CloudCair Leaves for Down Under
The first shipment of Global Connect CloudCair systems are on their way to our partners Novacorr Healthcare based in Queensland. Phil Spiby (right) oversees the final packing before they are dispatched to Australia. "This demonstrates the Global reach of the CloudCair technology, that we can monitor the function and performance of the product from the other side of the world"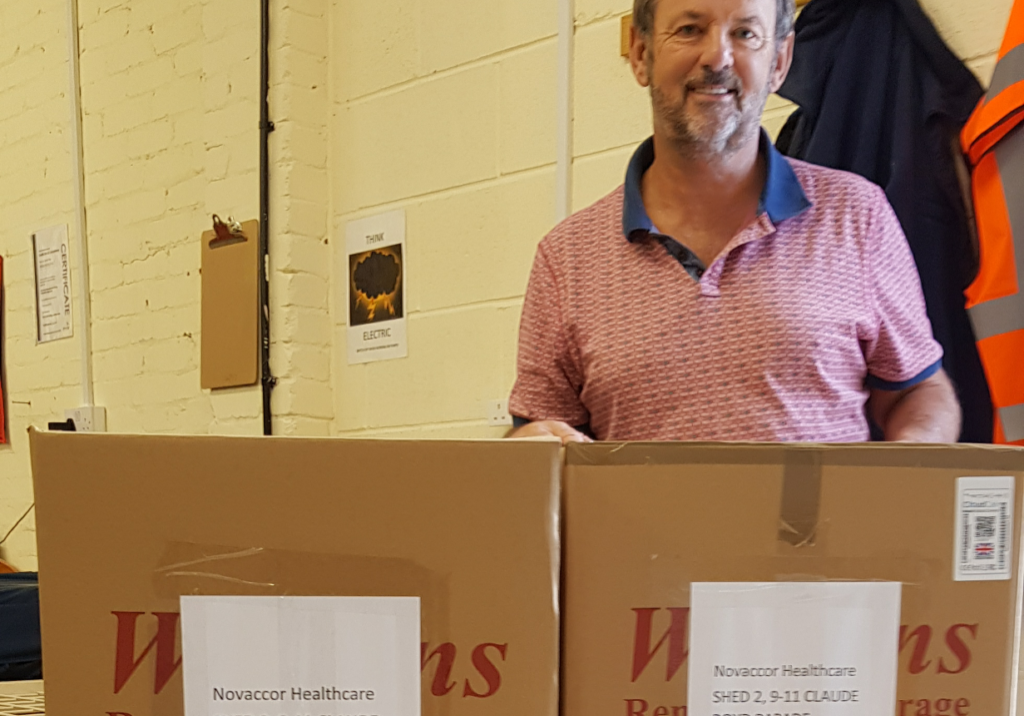 Market Leading Battery Backup - up to 12 Hours
Due to the efficient digital switching circuitry and high specification solenoid valves used in the CloudCair pump, we are able to announce a revolutionary breakthrough in battery backup capability.
Whether needed in the community to cover power outages or within a hospital environment for patient transfer between wards, CloudCair Battery Backup can run for up to 12 hours between charges. Remaining charge can be monitored remotely and if required can be adjusted to suit individual circumstances. The pump can be set to provide either long life battery backup with fewer alternations (in the case of a long term power outage) or full alternation cycles with reduced battery life.

Arab Health - Dubai 2018
CloudCair's market leading 5 Year Warranty at was warmly received at Arab Health this year. Sales Director of  CloudCair, Adam Spiby said "Due to the innovative design of the pump and remote monitoring function, we are able to offer the best warranty in the market place today." After another successful show in Dubai, Jeremy Jones, Technical Director of CloudCair commented "The Internet of Things is rapidly becoming reality and CloudCair leverages these benefits for all stakeholders"
The stand was visited by Noel Gordon, Chairman of NHS Digital who remarked that this kind of innovation was critical to the future of the NHS.
Stop the Pressure Day 2017
CloudCair supports the Global effort to reduce Pressure Injuries and  believes it takes a 'joined up' effort between departments involved in delivering care.
We understand the pressure that this can bring to all stakeholders and are committed to using the latest technology to help. We recently wrote to every Tissue Viability department in the UK to highlight the benefits of our Smart Pressure Care Mattress System.
Rehacare - Dusseldorf 2017
CloudCair was back in Dusseldorf again this year with the World's first smart pressure care pump. There was much interest from across Europe with many people quickly realising the benefits the CloudCair system could bring. Adam Spiby, Sales Director of CloudCair said "it was really noticeable how many people with a background in the business 'got' the product. This is how healthcare is moving and we are at the leading edge"
BBC Wales News - 07/07/2017
BBC Wales News - Two firms in Wales are hoping they can help offer new hi-tech solutions to tackle the costly problem of bedsores. Treating wounds caused by issues such as pressure ulcers costs the Welsh NHS 10% of its annual budget - £600m. Across the UK the bill is about £4bn.
But one Wrexham-based mattress company says it has devised a system that can move a patient every 10 minutes, to reduce the risks.
"You can never underestimate the patient experience with pressure ulcers," said Paula Lawrence, a specialist nurse at Betsi Cadwaladr University Health Board. "It impacts severely on their quality of life - often leading to patients feeling isolated, embarrassed, and there is a considerable economic hardship associated with the development of pressure ulcers." She said the estimated cost of dealing with a patient with a bedsore can be anything from £1,200 up to as much £14,000, depending on the severity of the ulcer. According to health experts, it can take as little as two hours for an immobile patient to develop a pressure sore in bed.
But the firm Cloudcair hopes its latest development can put an end to the problem, with a mattress that changes position constantly.
The company claims it is the world's first smart pressure care mattress system. "The main innovation is that it is internet connected, which means we can remotely diagnose the bed as it is under the patient, and remote alarm," said Cloudcair's Jeremy Jones.
"The unit will send that message directly to the response centre either at the hospital or to a third party. That saves a lot of discomfort and a lot of nursing time, and allows us to control the system a lot better."
Arab Health 2017, Dubai
Following our success at Medica in Dusseldorf last year, CloudCair was exhibiting again at Arab Health in Dubai. Arab Health is the leading medical equipment exhibition in the area and the second largest globally. Adam Spiby, Sales Director said "We are delighted at the response to our CloudCair system, with interest from most of the Gulf States and as far afield as Singapore and New Zealand."
The stand, part of the Welsh Government trade mission was visited by Nicola Blackwood MP, UK Under Secretary of State for Public Health and Innovation who was keen to hear the many benefits of our internet connected pressure care mattress system.
Jeremy Jones, CloudCair's Technical Director felt that the high level innovation in the CloudCair product was appropriate for a city sporting the world's tallest building. "There was significant interest in the IoT (Internet of Things) nature of our device bringing improved maintenance and lower costs"